After my posts about rings, earrings and bracelets, I am going to close this serie about renovated jewels with pearls with my suggestion about necklaces! The best to wear creations with pearls in a way less conventional is to dare with different sizes, colours, forms… with original designs! / Después de mis publicaciones sobre anillos, pendientes y pulseras, voy a cerrar esta serie sobre joyas con perlas renovadas con mis sugerencias sobre collares! Lo mejor para lucir creaciones con perlas de una forma menos convencional es atreverse a elegir diferentes tamaños, colores, formas… con originales diseños.
1. Akoya pearls and yellow gold-plated brass for the Lia opened necklace by Vita Fede. / Perlas Akoya y latón con baño de oro amarillo para el collar abierto Lia de Vita Fede.
2. Bourgeons de Lys Négligé necklace by Mellerio with two white pearls and yellow gold. / Collar Bourgeons de Lys Négligé de Mellerio con dos perlas blancas y oro amarillo.

3. 18k yellow gold and litle white pearls for the Mist necklace by Kayo Saito. / Oro amarillo de 18 quilates y pequeñas perlas blancas para el collar Mist de Kayo Saito.
4. From the Fontana collection, a Niko Koulis necklace that it looks a bracelet. With black gold, white diamonds and black pearl. / De la colección Fontana, un collar de Niko Koulis que parece un brazalete. Con oro negro, diamantes blanco y perla negra.
5. Diamonds in the sky necklace by Saqqara, with Tahitian pearl, diamonds and 18k white gold. / Collar Diamonds in the sky de Saqqara, con perla de Tahití, diamantes y oro blanco de 18 quilates.
6. Yellow gold and white pearls with another baroque for the Nansa necklace by Joaquín Berao. / Oro amarillo y perlas blancas con otra barroca para el collar Nansa de Joaquín Berao.

7. Australian baroque pearl, diamonds and white gold for this Garabato necklace by Isidoro Hernández. / Perla barroca australiana, diamantes y oro blanco para este collar Garabato de Isidoro Hernández.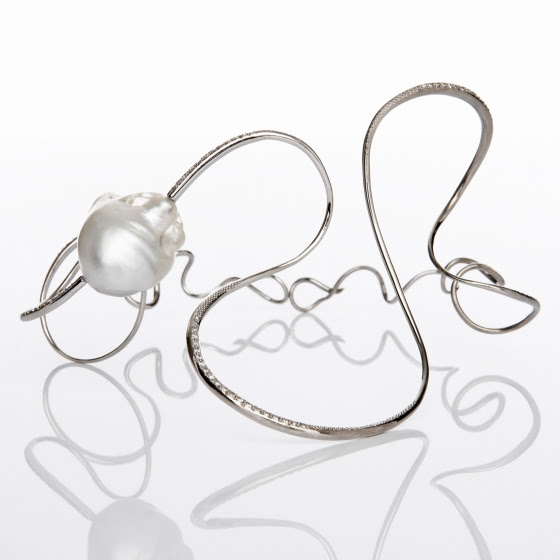 8. Necklace from the Mystic collection with titanium chains and white freswater pearls by Melanie Georgacopoulos for Tasaki. / Collar de la colección Mystic con cadena de titanio y perlas de río de Melanie Georgacopoulos para Tasaki.

9. Versatile necklace by Mirjam Butz-Brown that it can be a brooch or pendant too. The Lovely Eye is made in platinum with Tahitian pearl, diamonds, sapphires and fire opal. Seen in Adorn Gallery. / Collar versátil de Mirjam Butz-Brown que puede ser un broche o un colgante también. El Lovely Eye  es de platino con perla de Tahití, diamantes, zafiros y ópalo de fuego. Visto en Adorn Gallery.
10. Thorn Sprig necklace by Angela Cummings for Assael, inspired by nature. 36 Akoya pearls with 18k yellow gold. / Collar Thorn Sprig de Angela Cummings for Assael, inspirado en la naturaleza. 36 perlas Akoya con oro amarillo de 18 quilates.
11. Cascading Lagrange necklace by Paul Morelli, with delicate Akoya pearls and brilliant-cut diamonds over 18k white gold. / Collar Cascading Lagrange de Paul Morelli, con delicadas perlas Akoya y brillantes sobre oro blanco de 18 quilates.


12. Joaquín Berao necklace called Venus, made in yellow gold with Tahitian and Australian pearls. / Collar de Joaquín Berao llamado Venus, realizado en oro amarillo con perlas de Tahití y australianas.

13. Necklace from the Illusion collection by Jewelmer with cubes of yellow gold, white diamonds and one golden South Sea pearl as central protagonist. / Collar de la colección Illusion de Jewelmer con cubos de oro amarillo, diamantes blancos y una perla dorada de los Mares del Sur como protagonista central.

14. Again Melanie Georgacopoulos with this Full Circle necklace from the Statement collection with two different ways to wear it. Black rhodium plated silver chain with ascending 3-12 mm white fresh water pearls. / De nuevo Melanie Georgacopoulos con este collar Full Circle de la colección Statement con dos formas diferentes de lucirlo. Plata con baño de rodio negro con filas de perlas de río blancas de 3 a 12 mm.


15. Abstract Star necklace by Tasaki with Akoya pearls and yellow gold. / Collar Abstract Star de Tasaki con perlas Akoya y oro amarillo.

16. Caramelo necklace by Grassy with Australian pearls, turquoises, sunstones and brown diamonds, all in  pink gold. / Collar Caramelo de Grassy con perlas australianas, turquesas, piedras sol y diamantes brown, todo en oro rosa.
17. Choker by Isidoro Hernández made with yellow gold threads and cultured pearls. / Choker de Isidoro Hernández realizado con hilos de oro amarillo y perlas cultivadas.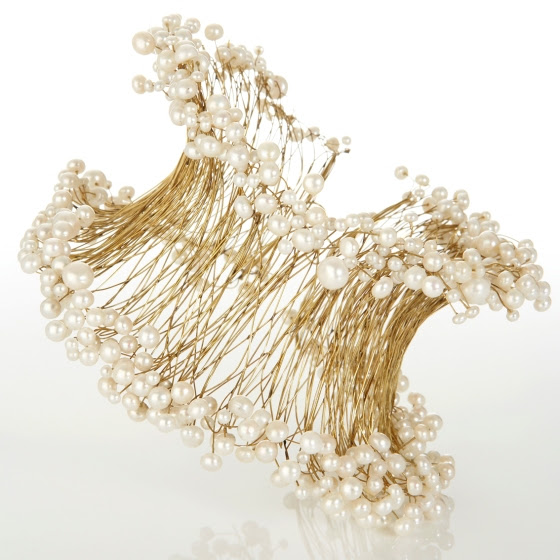 18. Travel Fantasy necklace by Federico Primiceri made in gold with Australian pearls, diamonds, rubies and sapphires. / Collar Travel Fantasy de Federico Primiceri realizado en oro con perlas australianas, diamantes, rubíes y zafiros.  
19. Nine golden South Sea pearls, with different sizes and tonalities (from white to yellow), over 18k white gold with diamonds for the Mango Leaf necklace by Belpearl. / Nueve perlas doradas de los Mares del Sur, con diferentes tamaños y tonalidades (de blanco al amarillo), sobre oro de 18 quilates con diamantes para el collar Mango Leaf de Belpearl.
20. One masterpiece necklace by Utopia. Tahitian pearls with deep blue tanzanites and diamonds, all in white gold. / Un collar masterpiece de Utopia. Perlas de Tahití con tanzanitas azul intenso y diamantes, todo en oro blanco.
21. Impressive with soft colours Aphrodite necklace by Yoko London. White diamonds, blue and pink sapphires, amethysts, natural colour Tahitian pearls and Radiant Orchid freswater pearls, all in black gold. / Impresionante collar Aphrodite con tonos suaves de Yoko London. Diamantes blancos, zafiros azules y rosas, amatistas, perlas de Tahití de colores naturales y perlas de río Radiant Orchid, todo en oro negro.
22. Ombres et Lumière necklace by Hermès. Grey Tahitian pearls, white Akoya pearl and South Sea pearls with diamonds, all in rose gold. Fabulous! / Collar de Hermès Ombres et Lumière. Perla de Tahití grises, perlas Akoya blancas y perlas de los Mares del Sur con diamantes, todo en oro rosa. Fabuloso!
EXTRA BONUS:
23. Necklace for Princess Charlene of Monaco made in gold with diamonds and six white pearls, by Tabbah. A renovated pearl necklace for a royal house! / Collar para la Princesa Charlene de Mónaco realizado en oro con diamantes y seis perlas blancas, de Tabbah. ¡Un collar de perlas renovado para una casa real!!!
24. Vintage pearl necklace made by Grima in 1972 with baroque pearls, diamonds and false oyster shells, in yellow gold. The British brand with Italian roots were searching new lines of design from several decades ago… / Collar vintage de perlas realizado por Grima en 1972 con perlas barrocas, diamantes y falsas conchas de ostra, en oro amarillo. La casa británica con raíces italianas estaba a la búsqueda de nuevas líneas del diseño desde hace varias décadas…

25. Another vintage Grima jewel created in 1974: a Tahitian pearl and diamonds necklace from the A tale of Tahiti collection. Breaking rules! / Otro joya vintage de Grima creada en 1974: collar con perlas de Tahití y diamantes de la coleccción A tale of Tahiti. ¡Rompiendo normas!